Much has changed in the quarter of a century since I stood with the three other founding members of the agency looking at the empty fourth floor of 49 Piccadilly – just above Halfords – wondering how we would fill the seemingly vast space we were taking on.
Halfords is now a Wetherspoons, for a start. And Manchester post-grad student Brian Cox was playing keyboards for the band D:Ream, who were topping the charts with Things Can Only Get Better as we stood there in early 1994 – a good omen, perhaps. Now of course he's an internationally renowned physics Professor and much sought-after TV presenter.
And Red C has changed too. We've outgrown offices and moved twice in Manchester, to our present location in Salford Quays. We grew our London presence from offices first in Bayswater, then High Street Kensington, and finally just behind Carnaby Street, to a point where we then merged the two operations back into a single national office.
And throughout this time, we have been lucky enough to work with some amazing blue chip clients in a wide range of industries, and across pretty much every advertising channel, from TV, press, outdoor and direct mail to email, social media, affiliates and search marketing.
From small beginnings
At start-up, the four of us – Rosemary, Irene, Geoff and I – all had a strong background in home shopping, and so it was not surprising that many of our founding clients were catalogue companies. Our very first job, on 1st May 1994, involved a trip around the corner to JD Williams, then on Dale Street. I think it was a mailing for the Humpty Dumpty Club, a continuity club for parents of pre-school children. We've worked for JD Williams ever since.
Anyone under 30 is going to have to look up 'continuity club' but trust me, they were big in the 1990's, and we worked for several, including one of the biggest, Britannia Music, in those early years. My daughter attempted to enlighten me to the benefits of Spotify over Christmas, but when I suggested it was like an online version of Britannia Music, she looked mystified!
I found a nostalgic thread on the website "Do You Remember?" about the Humpty Dumpty Club, where I was glad to learn that "I used to live for the parcels that came through our letterbox from the club, and I learnt to read using their games, books and activities", to quote just one wistful former member! Maybe there's an online niche there too?
Taking it Stateside
In the early years, we were 25% owned by a New York agency and collaborated closely on joint projects, introducing UK companies to the US market and vice versa. Amongst the work we did together for brands like AT&T, Disney and Harrods, the one that stands out is Peruvian Connection, which we launched in the UK working with the inspirational mother and daughter team of Biddy and Annie Hurlbut out of their ranch in Tonganoxie, Kansas. Using press advertising, inserts and direct mail – pre-Internet, of course – Red C made the first UK catalogue a big success in 1995, and the brand is now well-established here.
A successful track record in staff development
Staff training and development has always been at the core of the agency's philosophy and we have acquired a strong reputation for developing great marketers, something I'm very proud of. Our 'alumni' include Hattie Whiting, the new Chief Client Officer at PHD UK and former Managing Director of Kitkatt Nohr; Simon O'Mahony, the Digital, Retail and Customer Service Director at fast-growing £380m catering equipment company Nisbets; Gareth Ryan, Sales & Marketing Director at CheckaTrade.com; and James Calvert, now co-founder at M&C Saatchi's Alive&Kicking subsidiary.
Working for 'The Man'
Alongside our work on blue chip private sector clients like N Brown, Bupa, Swinton, Eurostar, Currys, PC World, Jet2, Manchester City, AGA Rangemaster and Hoseasons, to name a few, we were lucky enough to work for the Central Office of Information, the UK government's marketing and communications agency. After a pitch involving over 100 agencies, winning a coveted place on their roster – the only agency headquartered outside London to do so – really put us on the map. Over several years, we developed some amazing campaigns to encourage young people to take up Foundation Courses, to improve the quality of pre-school education by attracting graduates to Early Years courses, and even to help the NHS with flu pandemic contingency planning!
Digital Transformation
We were early adopters of digital marketing, establishing a stand-alone online marketing operation as early as 1998 – The Web Engine Room – delivering digital services for clients like AGA, PC World and Currys. But we soon realised that integrating these skills into the main agency was a better approach. Now over 70% of our work is digital marketing.
One of my most memorable digital projects of this period was the development of a presence in virtual world Second Life for our client Swinton Bikes. During a period when every major brand from Coca Cola to Toyota were establishing a presence, we built a fully operational Hoverbiking Stadium – the Gravitron – for the Swinton Bikes brand, complete with a challenging tubular course, a choice of cool hoverbikes, and a digital leaderboard. In the end, the project was shelved, due to the deteriorating financial markets that led to the 2008 crash, but it was enormous fun to work on!
Award-winning work
Over the years, Red C has won accolades from almost every major creative festival, but it was another Swinton project, this time for the Taxi division, that created an awards avalanche that overwhelmed our trophy cabinet – The Swinton Mystery Tipper!
Built around a central cartoon character inspired by Dick Tracy with a hint of Jessica Rabbit, the Swinton Mystery Tipper visited towns and cities around the UK giving cab drivers a £1,000 cheque. This outstanding campaign created huge growth for the Swinton Taxi brand by exploiting word-of-mouth on the cab ranks and taxi offices around the country, and delivered DMA, ISP and IPA Golds and Silvers amongst a raft of awards for Swinton and Red C. What pleased us most, though, was that we quadrupled the leads for the Taxi division, and the campaign ran for almost four years, delivering record results time and time again.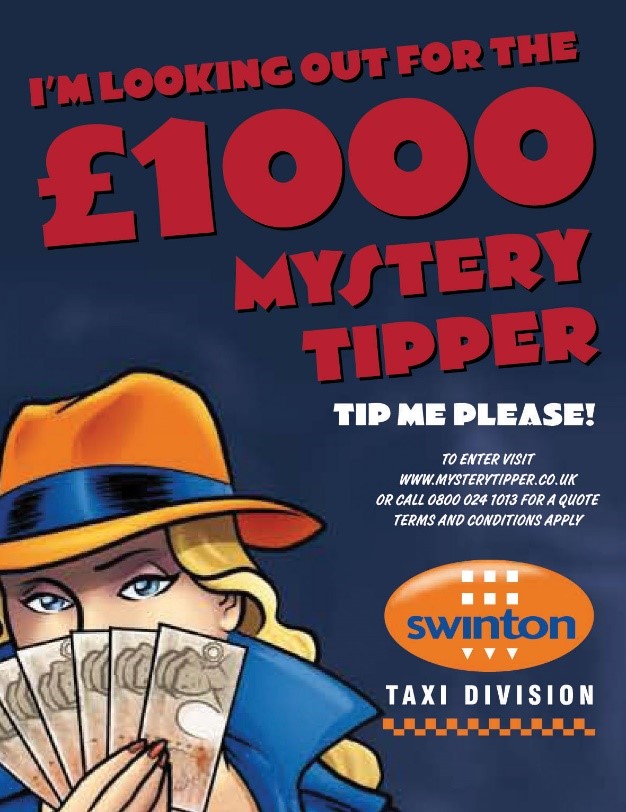 Hitting the right notes
Of course, any personal trip down Red C's Memory Lane would be incomplete without mentioning the Red C band – occasionally known as the Red Cowboys – a hugely talented set of musicians, including fellow founding partner Rosemary, that have graced the stage at parties and key anniversaries in the agency's 25 years!
From memory, I think we have supported the 2nd, 5th, 15th, 20th and 21st Birthday celebrations, with a range of line-ups and musical styles, but consistently featuring the unforgettable B-52s' Love Shack as a finale. And whilst I may have now hung up my drumsticks, I am delighted to report that the beat goes on at Red C, a quarter of a century 'down the Atlanta highway'!