Over the last 8 years, SEO practices have seen a tremendous evolution. Search Engines are now more intelligent and unpredictable than ever before, which means that marketeers across the globe have to think on their feet and keep up to date with even the slightest of changes.
Until recent years, search marketeers had a heavy reliance on what's referred to as 'Universal Ranking Factors'. This referred to key things that you could implement on a website, which had a fair chance of improving its organic search presence. However, research carried out by Search Metrics suggests that universal ranking factors are a thing of the past, and instead ranking factors are now personalised to the user, the user's intent and the industry of the business. So, is this good or bad news? Yes, it adds an extra layer of difficulty, but it is also an opportunity to outshine competition.
In this blog, I'll be touching on the basic SEO & Content tips that I cover in Red C's Search Marketing Masterclasses that I see as influential in 2018. Our next Search Marketing Masterclass takes place on the 20th November, have you signed up yet?
But first, a top-line overview of what SEO is…
What is SEO?
SEO stands for Search Engine Optimisation. It is the practice of optimising a website/webpage to rank higher in a SERP (Search Engine Results Page) for terms deemed valuable and relevant to a business.
Why should I optimise my website for Search Engines?
The simple answer is so more people will see you. However, there's many reasons why you should follow SEO best practices. One of them being that, when carried out properly, SEO can be much more cost-effective than a PPC (Pay Per Click) campaign and, in general, an organically high-ranking webpage is seen as more credible than a high-ranking PPC ad.
The basic do's and don'ts of SEO
Don't neglect meta data
According to Red C Chairman, Adrian Rowe, strong meta data is the ticket to the game – meaning that you must get the essentials of your website up-to-scratch first and foremost, before considering any further SEO practices. Try not to run before you can walk, as the saying goes. To do this, you should:
Look as good as you can in the SERP, with a well-written Page Title and Meta Description.

Page Titles

should be written concisely, using "pipes" where necessary (e.g. "Red C Marketing | Marketing Agency") and be no longer than 60 characters.

Meta Descriptions

should be written in a natural, conversational way that outlines the content on your page and entices users to click-through, and no longer than 320 characters.

Page Titles & Meta Descriptions

should both try and include the keywords you're optimising for. There's many free tools you can use to simulate a result on a SERP, our favourite is Portent.

Include keywords that are relevant to the search term you're optimising for in the URL of your page. This is often overlooked, but still holds a lot of importance.
Have one H1 header, which concisely describes the content of the page. If you have more than one H1 header, Search Engines will get confused and try to split your ranking across the multiple headers, which will negatively impact your overall ranking.
Ensure that hyperlinks on your website don't link through to a 404 page – these links should either be removed or have a 301 redirect set up as Search Engines interpret this as a poor customer experience.
Use tools such as Page Speed Insights to measure the loading time of your Desktop & Mobile sites. In July his year, Google confirmed that Page Speed is a high-priority ranking factor, so if you're in the orange or the red you'll need to follow their technical recommendations in order to rank higher.
Optimise for long-tailed search terms
Optimising for long-tail search terms is something we preach to our clients on a regular basis. Despite these terms having a lower search volume, the user who searches using long-tail terms is at a more valuable position in the buying cycle, and therefore more likely to convert.
Below is a graph we put together for one of our clients. It demonstrates the correlation of search volume and the specificity of keywords in different stages of the buying cycle from consideration, to choice and purchase.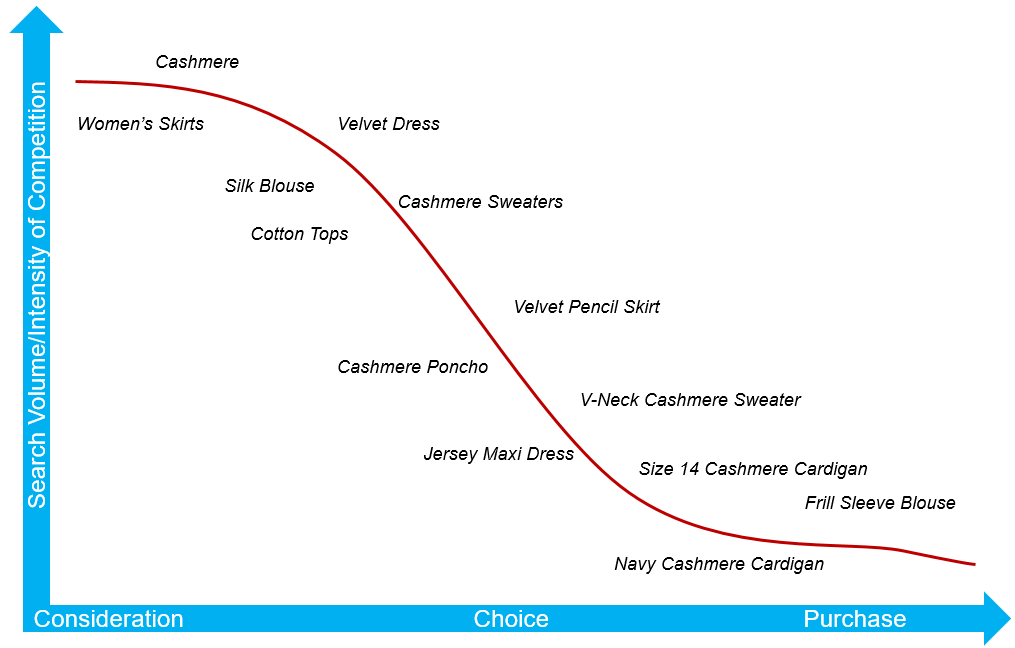 As you can see, consumers who are closer to the purchase stage of the buying cycle are a lot more specific in their searches because they've already researched and therefore have a better idea of what they want.
Will you drive less traffic with long-tail search terms? Possibly. But in these circumstances, the quality of the traffic trumps the quantity.
Interesting fact… did you know that around 80% of Search Engine queries are informational?
Don't forget about link building
Link building is the practice of generating high quality inbound links (links from an external website to your own website).
This is mostly achieved through creating high-quality and shareable content, whether that be press releases or having your own content referenced externally. The more reputable the company's domain, the more reputable the link to your website and the more reputable you look to Search Engines. Simple!
Don't keyword stuff
'Keyword Stuffing' is the practice of cramming as many 'keywords' as possible into a condensed area, such as a title, description or paragraph copy. The initial benefit of this was that you'd rank high for these keywords, however when Search Engines were able to pick up on this as a bad User Experience, you were promptly banished from the SERP.
For example, if a page title reads: "SEO agency, marketing agency, PPC agency, marketing strategy" – that company is using old (Black Hat) SEO strategies and you need to stay as far away as possible!
This strategy is not only ineffective, but can significantly damage your search rankings.
Don't forget to monitor results
Monitoring results is perhaps the most important part of a marketing strategy, but it is often neglected for SEO. Here's why it is crucial to a successful marketing campaign.
If correctly set up, you can successfully attribute traffic, user activity and revenue generated from your SEO campaigns.
You can keep a backlog of your previous campaign activity and determine what has and hasn't worked to gain valuable lessons for future activity
Analytical tools, such as Google Analytics, allows you to learn more about your customers. Whether that's the device they're using, time spent on certain webpages or even their geographic location. This means that you can be more refined, cost-effective and sophisticated with your planning moving forward.
Though this may look like a lot of information, when it comes to SEO we've barely scratched the surface.
In order to determine the right strategy for your business, we need to know a little bit more about you.
Great results always start with a conversation, why not give us a call on 0161 872 1361 or email us on chat@redcmarketing.com?