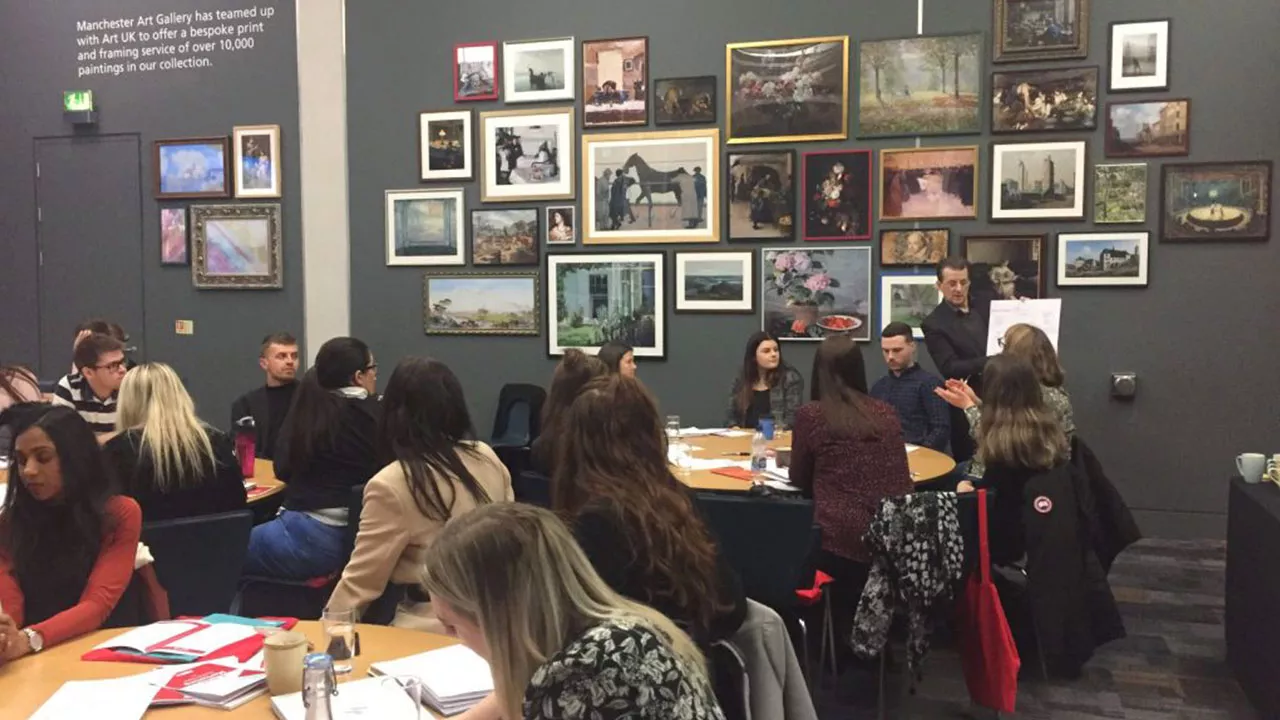 Last week we delivered our 7th Email Marketing Masterclass and what an enjoyable day it was. In recent years we've taken the masterclass to Yorkshire, Chester and Birmingham, so it was great to bring it home to Manchester.
Manchester Art Gallery is a spectacular venue and we were delighted to welcome an excellent group of delegates, including Co-op, Avalon Funeral Care, American Golf, JD Williams and Bollington Insurance.
After a networking breakfast, the day kicked off with Andy Partridge, our Head of Digital, delivering an inspirational session looking at some of the most impactful and clever emails from around the world.
Our Managing Director, Steve White, followed with insights on how to deliver a successful email strategy focusing specifically on email frequency, email content and segmentation.
Adrian Rowe, Chairman of Red C, and Betty MacMahon, Senior Account Manager, then talked the delegates through 'Ten Inbox Secrets', Red C's very own eye-tracking research. Adrian and Betty cherry-picked 6 proven techniques for improving email engagement, for example how you can use navigation and clever design to improve clickabiity.
Then it was back with Andy who spent 20 minutes outlining how to design and build emails with a 'mobile first' approach. The subjects of stacking, wearable devices and even "fat thumbs" were all covered 😊
This was followed by one of the most popular sessions from the day. Stuart Clark, our Head of Copy, then outlined his copy techniques for writing for email. He outlined several strategies and tactics to capture attention, sustain interest and encourage action. You can download Stuart's guide here https://main-bvxea6i-y3pcwomirjuny.uk-1.platformsh.site/app/uploads/2018/08/Red-C-Copy-Writing-for-email.pdf
After a delicious lunch, the afternoon session kicked off with an interactive breakout session where delegates worked together in teams to design and plan an email programme for a gifting company, promoting the run-up to Mother's Day. Congratulations to the winning teams! 😊
The final two sessions of the day were delivered by Steve and Adrian. Steve looked at the complicated subject of Email Distribution and Deliverability, while Adrian discussed the best ways to monitor and evaluate email activity using smart tools such as heatmaps and eye-tracking.
We thoroughly enjoyed the day and it appears our delegates did too, as we received some great feedback.
"Format was excellent and the hosts were knowledgeable" – Rob Smyth, Distrelec
"Great content, very useful and easy to implement" – Adele O'Neill, N Brown Group
"Great staff, very thorough and always willing to help. Also, very knowledgeable" – Adam Bailey, The Football Pools
"All presenters were engaging and knowledgeable" – Diane Johnson, American Golf
As well as lots of know-how, all of our delegates also left with the opportunity to get a FREE email mail audit. If you want to know how your campaigns can work harder, we're offering an email marketing audit to our readers too, find out more here.