Aviva have just released a series of campaigns that aim to disrupt and innovate the rigid (and somewhat prescribed) rules that currently surround the laborious task of buying insurance. In their latest campaign "Get a Quote Not a Quiz", Aviva have used humour to illustrate the puzzling process that surrounds selecting a policy and receiving an insurance quote.
With such a punchy campaign, Aviva are aiming to innovate through sophisticated technology the way that customers interact with insurance brokers with hopes to permanently remove the negative connotations that surround the activity. Instead, their objective is to focus on the quality of the product over the price. In a statement made by Tom Daniell, Aviva's Retail & Brand Marketing Director, he believes that it is paramount that insurance companies "solve the problems that [they] have helped create" and instead the focus should shift to "understanding the customer and solving their problems".
This shake up by Aviva within the insurance market is primarily happening through their new app Aviva Drive. This app is used by Aviva customers to track their driving skills in a hope that it will reduce the cost of their insurance so long as they score well on the roads – Aviva Drive is basically a handheld black box.
The reason perhaps behind Aviva's need to improve digitally may be due to the increase and improvement amongst insurtech-type companies. Their new-found dominance within the market is something that all insurance companies, including Aviva, need to need to consider and compete with fast!
So, with that being said, here are four insurtech companies that are improving the customer journey and overall customer retention through data-led strategies that favour the consumer.
Cuvva
Cuvva is a mobile app that offers customers hourly car insurance from as little as £7.29 an hour. Since its creation in 2014, Cuvva has turned over £2 million due to it's simple to use, three-step process that simply focuses on putting the customer at the forefront of the cover. This type of car insurance is targeted at those who are infrequent drivers and works on a pay-as-you-go system.
Therefore, it creates a smarter way for the customer to purchase insurance, as it removes the middle man and ultimately saves the customer time and money. One way that Cuvva have launched themselves into the car insurance market is by following in the footsteps of transport giant Uber. To show their appreciation for their customers, Cuvva offer a referral code that gives them an exclusive discount for choosing to use them.
InMyBag
InMyBag is an online contents insurance company that is aimed at mobile workers and those who carry reasonably expensive possessions on their person, such as photographers. Obviously, one of the main components of InMyBag is the insurance, but the other is the comprehensive customer service that comes with the cover.
Their partnership with Amazon and Apple, which sell the products that are mainly insured, ensures that the customer can have their devices backed up and replaced the very same day that they are stolen, damaged or lost. InMyBag is pushing the concept of 'trusting the customer' as a way to drive their leverage within the insurance market. This is a vital element of their overall marketing strategy as it has the millennials in mind.
Neos
Neos is a start-up company that combines smart technology and 24/7 assistance with comprehensive home insurance. No matter where you are in the world, you're connected to your home. From the app, customers can look at dashboards or live camera feeds and respond to issues like an intruder alert and contact the Neos team to get a professional to resolve the issue in hand. Neos are working in partnership with selected brands that homeowners trust including Aviva which is improving their credibility within the insurance market.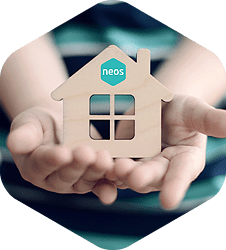 Brolly
Finally, Brolly is described as "the next-generation insurance aggregator". It is powered by artificial intelligence and is aimed at helping customers comprehend insurance policies as well as offering them personalised advice. Brolly is considered to be the new and improved customer-centric version of the main aggregators we currently rely on such as Compare the Market and Confused.com, but with Brolly their USP is that they have a genuine interest in saving the customer money. The UK start-up is also gaining international exposure with tech companies taking a huge interest in how they are revolutionising the customer experience.