As every email marketer knows, celebrations mean sales. Mother's Day, Father's Day, Easter and Christmas are all celebratory occasions that coincide with a big spike in people buying. So, it's little wonder that during the run-up to these events, inboxes are bombarded with promotional emails. But that's not always a good thing.
You're talking to a person not a crowd
When you work in marketing, it's easy to regard email as a 'tool' you 'deploy' to reach a crowd of people with your message. The more people you mail, the more sales you make. Yet looking at this bigger picture blinds you to the fact that people don't open your emails as part of a crowd. Everyone who opens and reads your email does so as an individual person. And that's when things can get complicated.  
Ask whether your message is appropriate for everyone
Let's take Mother's Day and Father's Day as an example. For most people, these occasions offer an opportunity to honour someone special in their life. So, it makes sense to email a promotional message along the lines of "Show Mum how much she means to you", or "Put a smile on Dad's face this Father's Day". For most people, that will resonate because that's exactly what they're thinking about doing. But what if you're estranged from your Mum or Dad, or your Mum or Dad aren't alive anymore? All of a sudden, a message that seemed appropriate starts to feel pretty insensitive.
Offering the option to opt out shows empathy
One way to avoid putting your foot in it is to offer your readers the option to opt out. This example from Interflora is pretty simple and succinct. While some of the phrasing is a bit clunky, it's sensible to have the message come from Karishma, the Customer Service Manager – it makes it seem more personal. But the email loses marks by ending with a boast about how brilliant the brand's other emails are, which jars with the sentiment they're trying to achieve.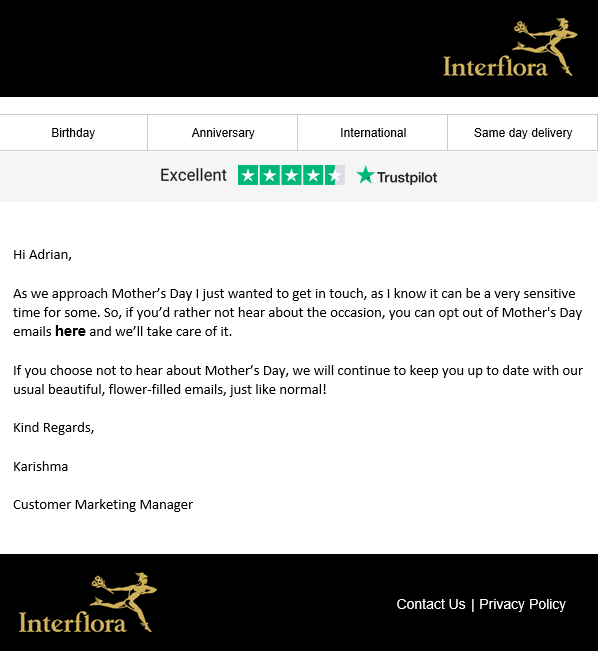 A better worded example comes from 'Team Firebox'. This one makes the opt-out link more visible, and for my money it adopts a more 'human' tone, too. Acknowledging that Mother's Day is 'not everybody's favourite day of the year' strikes the right note of empathy but in a way that feels more conversational. Likewise the phrase "if you'd rather not be reminded of it" sounds less stuffy than "if you'd rather not hear about the occasion", which is how Interflora say it.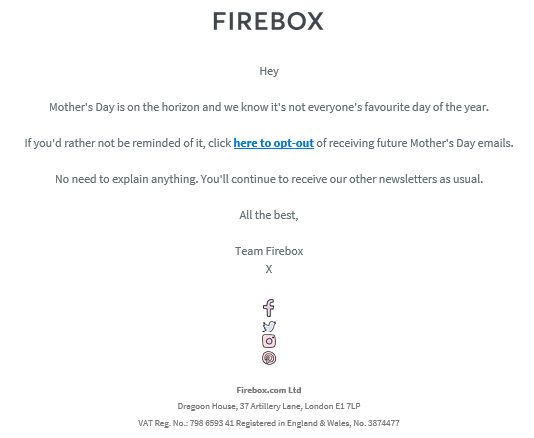 If you really want to make it as easy as possible for people to opt out, take a leaf out of Scribbler's book. Not only do they make the opt-out button so big it's unmissable, they also add a 'handwritten' caption to underline it.

A couple of other great examples come from Bettys, Photobox, Beer Hawk and our wonderful client, Getting Personal.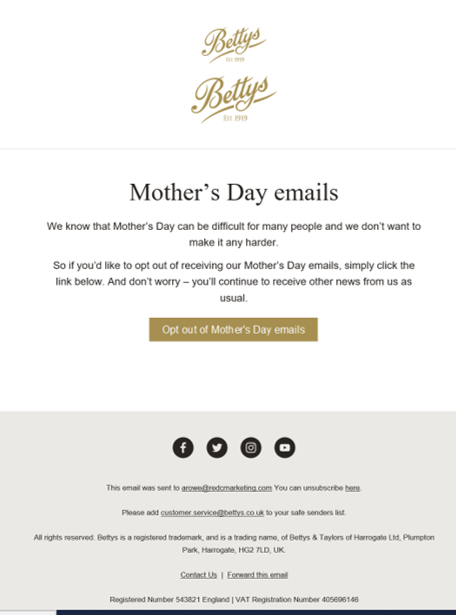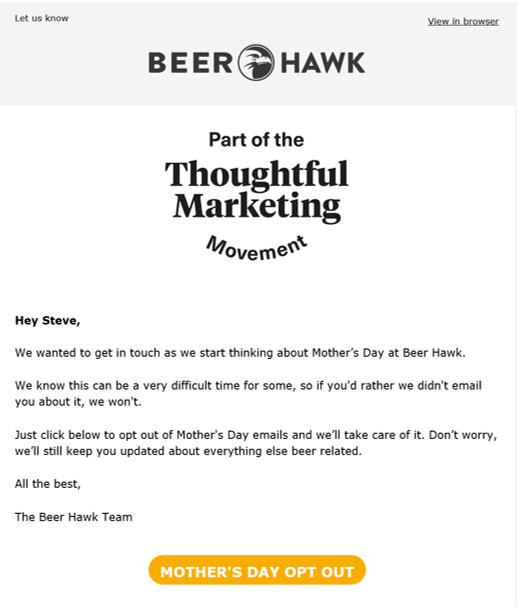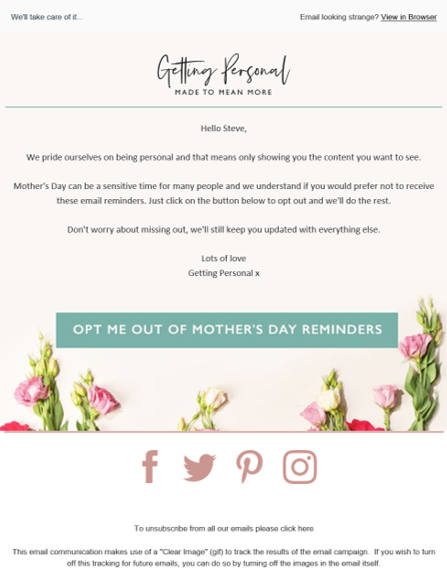 Marketing emails may only contain a small number of words, but those words can be powerful. If you think your emails could be better written, you might find our FREE Guide to Copywriting For Email is useful.